The Owl House - The Magical World of Magic
The Owl House is a fantasy animation work.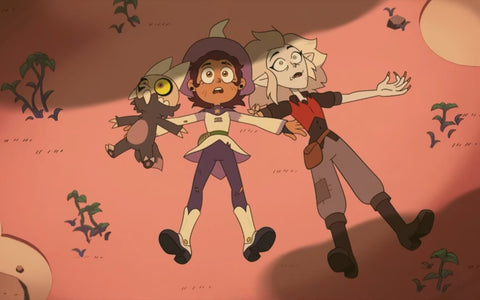 Luz, who is full of ideas, travels from school to the world of magic, and becomes friends with the witch and the dog wearing a skull who calls himself the king of demons, and decides not to go to summer camp but to work for the witch and learn magic.
The plot of this animation and the smoothness of the fighting scenes are very exciting, I think it is a work worth watching!!
Now let's talk about the main characters Luz, Eda and King.
Incidentally, they are three different races, respectively human, witch, demon.
1. "Mascot" - King
King is a demon, but is a very cute and cute character. king and Luz get along usually the one who is in trouble, but is also a good companion to accompany Luz.
King Cosplay Plush Toy Doll
King Cosplay Printed Hoodie
2. Owl Witch - Eda
Eda, known locally as the Owl Witch, is a spirited and uninhibited woman. She is Luz's teacher, but the relationship between them is more like family than teacher and student. Eda not only teaches Luz, but also learns many traits from Luz that she did not have.
Eda Cosplay Printed Hoodie
3. Heroine:Luz
In the original world, she is what people call a freak, often because of her wild imagination and the incomprehensible brain circuitry of ordinary people, resulting in a mess of things, real life and almost no friends, and finally asked to go to summer camp under the helplessness of her mother. However, when Luz was preparing to go to the camp, an owl went through the novel she threw into the trash, so she followed the owl and crossed into the magic world.
During her life in the magic world, Luz not only learns how to perform magic but also makes a lot of good friends. Most of all, she becomes more mature and considerate of others in her thinking.
Luz Noceda Cosplay Hoodie
 Luz Noceda Cosplay Hoodie
If You Want To See More The Owl House Cosplay Costumes, Click: The Owl House
If you have any questions, feel free to contact us﹥﹥﹥
Email: info@inswear.com
Inswear Facebook: https://www.facebook.com/Inswearshop
Inswear Instagram: https://www.instagram.com/inswearshop/
Inswear Pinterest: https://www.pinterest.com/inswear/